Aug 1, 2017 – 3:19 PM
A major appeal to coming to Ireland/the European Union was to get a different perspective and variety of different horse shows. In my year of being here and riding with Greg Broderick, I have been fortunate enough to be able to watch and compete in numerous countries, meet incredible people, and show fantastic horses.
Like I mentioned in my last post, I would highly recommend a season across the pond to anyone truly passionate about horses as I think it is incredibly refreshing and inspiring to get a different perspective whether you are riding or as a spectator.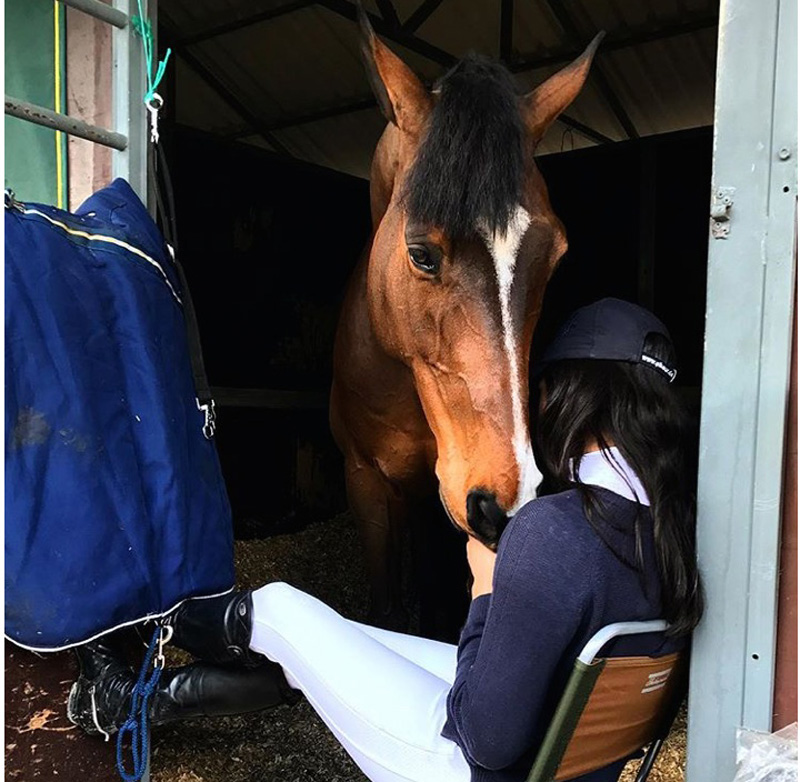 My first competition abroad was the Cavan International in Ireland. This was the perfect place for me to get my feet wet with overseas competition. I would have to say the biggest adjustment to this show from what I had been used to in the States would have to be the warm-up arenas.
Each warm-up arena has two jumps—one vertical and one oxer—that are flagged so you can only jump them in one direction (red/right, white/left). You have to plan your timing accordingly and warm up with the others near your spot as you are all sharing the two available jumps.
It was a bit nerve-wracking coming from the large California warm-up arenas where there are multiple warm-up jumps, you don't have to share, and you are able to adjust the height/width at your own pace. Nonetheless, I survived to tell the story!
At Cavan I was fortunate to get a ride from Greg and his father, Austin. They were very generous to let me ride a fantastic 4-year-old of theirs at the time. Of course, being my first show, I was hesitant getting on such a young horse as I definitely lack experience in that field. But she was a saint and packed me (and my nerves) around to get my first show under my belt.
Up next would be my first "big" international horse show with my (at the time) new mount, Killossery Kaiden. Liverpool International Horse Show was everything that everyone said it would be. Thank goodness I was able to get Cavan under my belt so I wasn't completely shocked with the warm-up scenario (again, only two jumps). It was a great first outing with Kaiden. We placed second in the final to fellow Ballpatrick barn mate, Rose Biedron—it was great being able to share the podium with her.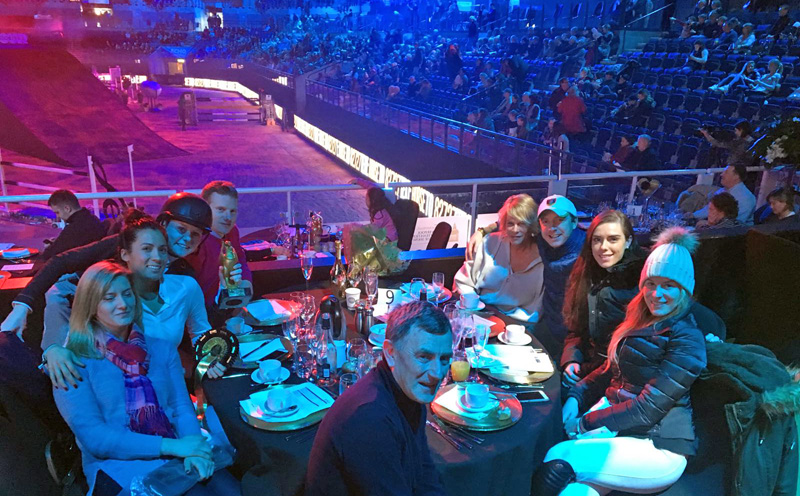 After settling into my first Irish winter we headed to sunnier weather in Vejer de la Frontera, Spain for the Sunshine Tour. After four full days of travel, everyone arrived safely and we were ready to kick off our Spain tour!
I competed with Killossery Kaiden in the 7-year-old classes and we qualified for the 7-year-old final, which took place the last week of the tour. The final was a stout 1.40- to 1.45-meter and I was so proud of Kaiden for jumping his heart out! Unfortunately, I had a rider rail that cost us a spot in the jump-off.
Greg also arranged for me to be able to take and compete on Zuidam—the ultimate speed horse. Zuidam earned me my first two international victories while in Spain. I could not be more grateful to Greg, Paul Carr (Zuidam's owner), and Zuidam for giving me this opportunity.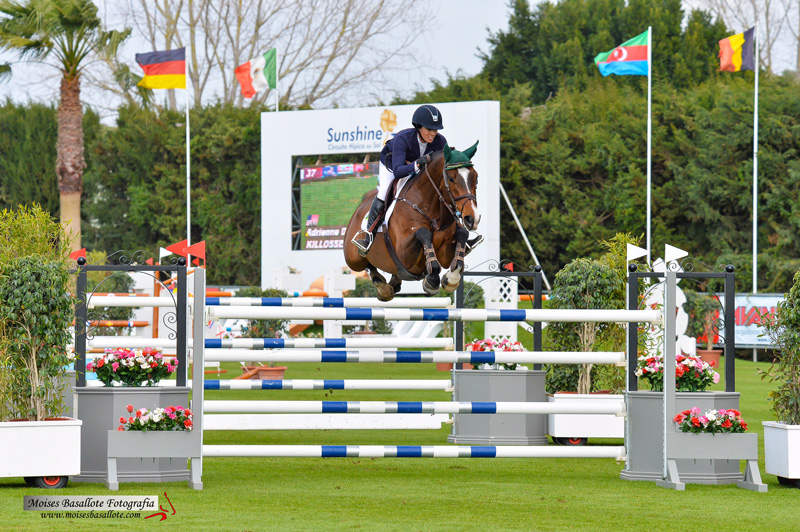 We decided to hit one more show on our way back to Ireland—the GPA Jumping Festival in Cagnes-sur-Mer, France. This show was beautifully situated in the center of a racetrack overlooking the gorgeous Mediterranean Sea.
Zuidam earned me my third international victory and my first official top podium finish where they played the national anthem for the United States of America. This horse continues to give me memories that will last forever.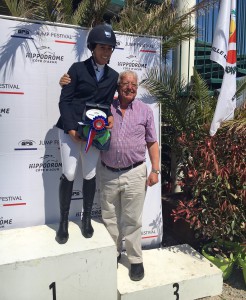 Being back in Ireland it was nice to continue on the international level. In Northern Ireland I attended a two-star show called Balmoral. I'd say this would be the first show I competed at that felt like a true atmosphere since my arrival. It was a massive grass field with a fair and trade shows going on all around—needless to say, LOTS of people.
There is something to be said that an atmosphere can most definitely make you rise to the occasion. I took only Zuidam to this show and had good results, placing second to Greg in the opening class and jumping clear in the 1.45-meter.
Jumping in the City is a series of three different events—Limerick, Cork, and Dublin. These are unique show jumping experiences to Ireland in that they are held at the greyhound tracks and only offer a few classes. I think what makes them special are the tracks they are held on and really making it more appealing as a spectator sport.
At Jumping in the City Cork I was lucky to have the ride on Zuidam with whom I knew I could depend on. We put in a clear first round that meant challenging some of Ireland's best (and fastest) to a jump-off. Being the only girl in the jump-off, I knew I had to let "Zui" do what he does best—go fast! And fast and clear is what we did! Luckily for me, most of the riders to follow had unlucky rails, which in the end meant another victory for us as a combination.
To stand at the top the podium next to Francis Connors and Edward Doyle was a major accomplishment as I have the utmost respect for these two horsemen.
Zuidam had ticked another box as this was my first victory on Irish soil.
Fast forward and the Ballypatrick team have been very busy in recent weeks attending qualifiers for the Dublin Horse Show. There are several qualifying shows where you have to come in the top six, or sometimes top 10, of your age category to earn your spot.
With 80+ horses in each age group (4-year-old, 5-year-old, 6-year-old, 7-/8-year-old) at each qualifier, it is a very tough task to qualify. Darragh Ryan (Ballypatrick's second rider) managed to win three out of the four age group classes at the first qualifier.
Each rider is also only allowed to qualify two horses per age group. Darragh managed to qualify five out of his eight eligible spots in the first qualifier—seriously impressive!
He has since fully qualified horses for each category, which means he will be taking eight horses with him for the young horse classes.
My sole shot to qualify was with Kaiden in the 7-/8-year-olds; unfortunately, luck was not on my side as I have self-diagnosed myself with Dublin-itis.
But I can't complain, my horse has been jumping fantastic all year and being a spectator at Dublin next week is nothing to complain about.
Talk about atmosphere. There are truly no words to describe the main ring—you just have to experience it (on or off the horse, this should definitely be a show on your bucket list). The place is jam-packed every day of the show. There is a ton to see and, to be honest, it can be a bit overwhelming. However, the turnout is what makes this place so special. The roar of the crowd when a local legend steps on that field is unlike any other.
I will be there cheering on all the Ballypatrick team and will enjoy watching the prestigious Nations Cup for the Aga Khan Trophy and Dublin Grand Prix.
Best of luck to all!
Adrienne Dixon, 29, from Hillsborough, Calif., is living the dream—training in Ireland with top show jumper Greg Broderick. After balancing her riding career with a full-time non-horse job for five years, Dixon decided to take the plunge and move her horse sales business to Ireland to train. You can read all about her decision to go to Ireland in her first blog, "California Goes Clover" and read all her blogs.